Currency investors have temporarily taken their eyes off the fundamentals and are helping strengthen the U.S. dollar in response to government response to the credit crisis, as well as the upward moves of the stock market.
While it made no logical sense for the stock market to surge after the troubling news Thursday that mid-Atlantic factory output dropped to its lowest level in 18 years, still it did, and not only that, but the production in the industrial sector in the U.S. also fell to its lowest monthly drop since 1974.
For the most part the reason this is happening is the focus on governments around the world pouring capital into shoring up the credit crisis. This gives the illusion of safety, and for now people are buying into that illusion.
Once the focus comes back to fundamentals, we'll see the dollar soften again, as most of the banks see in the near term.
People have forgotten the real risks involved with the U.S. dollar, and are seeing it as a safe haven. That shouldn't last too long as reality sets back in. Another factor is they still assume the U.S. is the safest bet in times like these.
U.S. Treasuries and other liguid dollar instruments have been the main benefactors over the last few months.
Even the yen has fallen against the dollar in these times, dropping to its lowest level in 7 months.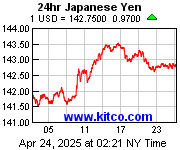 Still, confidence in general is still low, and regardless of the government bailouts, credit is still hard to come by.